JANE JACOB
Born 8th June 1793 - Will dated 14th May 1875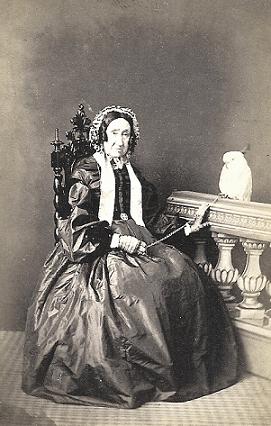 The will of Jane Jacob:
I Jane Jacob formerly of the county of Kent now residing in the island of Guernsey in anticipating my removal from this world desire to express my firm belief in the Blessed and Glorious Trinity, Three Persons and one God, Father, Son and Holy Ghost, Creator, Redeemer & Sanctifier, and that my only hope of Salvation is founded on the Alsufficient atoning blood & Righteousness of the Lord Jesus Christ as taught in the Holy Sciptures.
In disposal of the property God has graciously given me I desire that His Will be done.
This is my last Will & Testament of Personality of such part of my reality as is not situate in the Island of Guernsey.
After payment of all my just debts, Funeral & Testamentary expenses, I give & bequeath to my Brothers Philip & George Legrand Jacob the sum of £20 each. & I give and bequeath to my Nephews John Jacob, William Jacob, Samuel Swinton Jacob & Edwin LeGrand Jacob sons of my late brother William Jacob, to Augustus Jacob, Edgar Jacob & Earnest Henry Jacob, the three sons of my brother Philip Jacob, & to Edith Sophia Jacob, Gertrude Louisa Jacob, Isabel Margaret Castleman, the wife of the Reverend William Henry Castleman, the daughters of my said brother Philip Jacob, and to my nephews Henry LeGrand Boyce, Edward Jacob, Jacob Boyce, William Boyce & Philip Boyce, the four sons of my late sister Mary Ann Boyce, Carolina Candy, wife of Major Thomas Candy, Jane Upton, the wife of Henry Upton, solicitor & Elizabeth Hartley, wife of the Reverend William Samuel Hartley, the three daughters of my said sister Mary Anne Boyce the sum of ten pounds each & I direct that the before mentioned Lagacies shall be paid as soon as may be after my personal estate & effects so ever of reality not situate in the Island of Guernsey. It is my desire that my sister Elizabeth Jacob shall enjoy the interest of the same for the term, of her natural life & after her decease I do give & bequeath the said residue absolutely & forever as follows, namely one fifth part or share to my brother Philip Jacob, one fifth part or share to my four Nephews John Jacob, William Jacob, Samuel Swinton Jacob & Edwin LeGrand Jacob in four equal parts & in the case of the death before me of either of either (sic) my said Brothers or Nephews leaving issue, such issue shall take if more than one in equal proportions the share which either his or her Parent if living would have been entitled subject as above to the life of my sister Elizabeth and my others to my Nephews per Capita in equal proportions.
And I desire to leave to our former faithful old servant Elizabeth Le Maitre, wife of Peter Le Maitre Four pounds as a proof of my affectionate remembrance & regards.
And I have nominated my Brother the Archdeacon Philip Jacob and my Nephew Henry Upton And Mr Charles Harrison to be One, or either separately executors to my cash, Will and Testament & I desire to give to each of them Fifty Pounds to repay them for their trouble & my estimation of their valuable service. In Witness thereof I have transcribed my name this day
Jane Jacob
Witnessed by us in the presence of each other
Sarah Constantia Thurston, Martha de la Condamine.
May 14th 1875
Source: